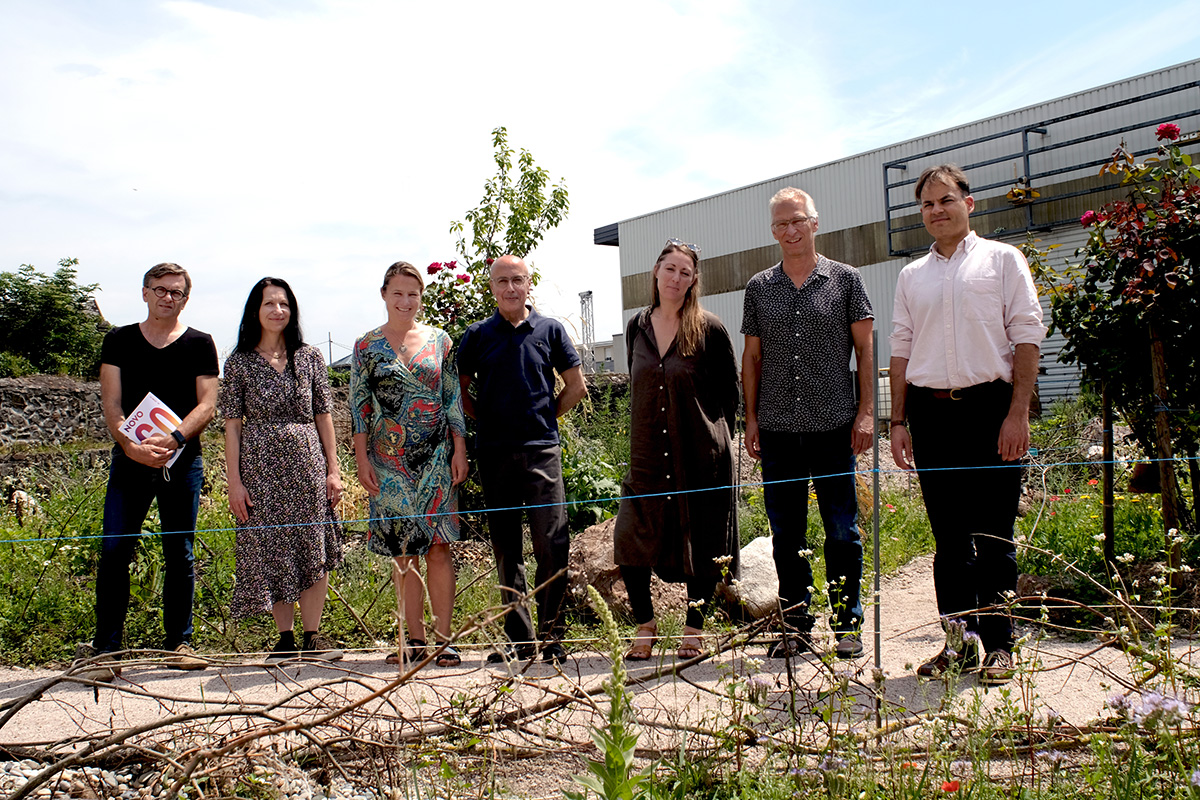 The members of the Technical Purchasing Committee, appointed for three years, are contemporary art professionals chosen by the Director, as well as representatives of public authorities. They act as rapporteurs.
The composition of the FRAC Alsace Technical Purchasing Committee since 2021 is as follows:
DELIBERATIVE VOICES
Felizitas Diering
Director of FRAC Alsace
Benoît Lamy de La Chapelle
Director of CAC – la Synagogue de Delme
Sophie Potelon
Curator, Production and Mediation Manager, Fondation Kadist, Paris
Maren Ruben
Artist
Pierre-Jean Sugier
Director, Fondation Fernet-Branca, Saint Louis
Roland Wetzel
Director, Museum Tinguely, Basel
Advisory voices
Bernard Goy
Plastic Arts Advisor, Ministry of Culture / DRAC Grand Est
Fanny Gonella
Director of 49 Nord 6 Est – FRAC Lorraine
Marie Griffay
Director, FRAC Champagne-Ardenne
---
BIOGRAPHIES
FELIZITAS DIERING
Felizitas Diering (*1982, Chemnitz, D) has a degree in art history and literature from the Albert-Ludwig University in Freiburg im Breisgau. She has lived in the USA, Italy, Spain and the Czech Republic, and since 2017 has been in France, where she is Director of the FRAC Alsace (Fonds régional d'art contemporain). The Nature(s) artistic project she is developing there invites reflection on the place of works of art in an open system defending an interdisciplinary and cross-disciplinary approach to contemporary creation.
BENOÎT LAMY DE LA CHAPELLE
Benoît Lamy de La Chapelle is an art critic and curator. After studying art history at Paris IV-Sorbonne and curatorial studies at Paris I – Panthéon-Sorbonne, he worked at WIELS in Brussels, FRAC Champagne-Ardenne in Reims and Musée de l'Hospice Saint-Roch in Issoudun. He directed programming at In extenso – lieu d'art contemporain, in Clermont-Ferrand, where he was also editorial director of La belle revue. He was also a member of the &NBSP association in charge of programming at the municipal contemporary art space La Tôlerie in Clermont-Ferrand.
He is currently director of the Centre d'art contemporain – la synagogue in Delme.
He is a member of the editorial board of La belle revue and the International Association of Art Critics.
SOPHIE POTELON
Since September 2014, Sophie Potelon, originally from Colmar, has been in charge of residencies and a member of the acquisitions committee at the Fondation Kadist (Paris). With a research master's degree in contemporary art history and a professional master's in curatorial practices (Paris IV – Sorbonne), she started out as an artist's assistant (Michel Blazy). She then joined the Eva Albarran production agency team as production and mediation manager, particularly for the Parisian event Nuit Blanche.
Since 2014, she has accompanied international artists and curators during their residencies at Kadist in the production of new works or exhibitions such as Meiro Koizumi (Japan), Julia Morandeira Arrizabalaga (Spain), Em'kal Eyongakpa (Cameroon), Otobong Nkanga (Nigeria), Biljana Ciric (Serbia), Shooshie Sulaiman (Malaysia), Haig Aivazian (Lebanon), iLiana Fokianaki (Greece), Martine Syms (USA), Taus Makhacheva (Russia). To build up the Kadist collection, she specializes in prospecting young African artists, and between 2019 and 2022 will be working on a curatorial collaboration with the CCA, Lagos.
MAREN RUBEN
German-born Maren Ruben is a visual artist who has lived and worked in Strasbourg since 1998. Over the past twenty years, Maren Ruben's practice has focused on painting, drawing, paper art and installation. Her work is accompanied by a strong theoretical reflection (invited in 2016 by IMERA, an institute of the University of Aix-Marseille), as well as a broad knowledge of contemporary art and art history. She plays an active role in the region's cultural life, which is intrinsically linked to the border context. She has participated in numerous regional, cross-border and international solo and group exhibitions: Kunsthalle Basel (CH); FABRIKculture, Hégenheim (F); Musée du Papier et du Livre, Lenningen (D); Abbaye d'Alspach (F); Kaysersguet/Lieu d'Europe, Strasbourg (F); Offenburg Open, Offenburg (D); Galerie Jean-François Kaiser, Strasbourg (F); Neuer Kunstverein, Aschaffenburg (D); Musée Beyer, Zürich (CH). Maren Ruben, née en Allemagne, est une artiste visuelle qui vit et travaille à Strasbourg depuis 1998. Au cours des vingt dernières années, la pratique de Maren Ruben s'est concentrée sur la peinture, le dessin, l'art du papier et l'installation. Son travail s'accompagne d'une forte réflexion théorique (invitée en 2016 par l'IMERA, un institut de l'Université d'Aix-Marseille), ainsi que d'une large connaissance de l'art contemporain et de l'histoire de l'art. Elle joue un rôle actif dans la vie culturelle de la région, intrinsèquement liée au contexte frontalier. Elle a participé à de nombreuses expositions individuelles et collectives régionales, transfrontalières et internationales : Kunsthalle Basel (CH) ; FABRIKculture, Hégenheim (F) ; Musée du Papier et du Livre, Lenningen (D) ; Abbaye d'Alspach (F) ; Kaysersguet/Lieu d'Europe, Strasbourg (F) ; Offenburg Open, Offenburg (D) ; Galerie Jean-François Kaiser, Strasbourg (F) ; Neuer Kunstverein, Aschaffenburg (D) ; Musée Beyer, Zürich (CH).
PIERRE-JEAN SUGIER
A graduate of the École du Louvre in Art History, Pierre-Jean Sugier continued his studies at Paris 12 and Saint-Denis in Art History and Aesthetics. He worked for 6 years in Parisian galleries, including two years as assistant director at Galerie Karsten Greve Paris.
He then directed the Centre d'Art Contemporain de Rueil-Malmaison for 6 years, where he focused on young contemporary artists and programmed 6 exhibitions a year, as well as monthly debates on current affairs and contemporary art issues.
In the early 2000s, he took charge of communications and partnerships in the cultural field for the Hôtel Scribe, a Parisian luxury hotel. He coordinates communications around the mediums of photography and cinema. He organized partnerships with the MEP, the Centre national de la Photographie, the Conservatoire du littoral… and produced photography exhibitions with Jean-Christophe Ballot, Emmanuel Pinard, Alain Ceccaroli, Olivier Mériel, Vincent Monthiers, Raymond Depardon… He created the VISA collection with Filigranes Editions.
He then established himself as an independent curator.
Since 2001, he has been a member of the artistic committee of Galerie Premier Regard, and since 2013, director of the Fondation Fernet-Branca in Saint-Louis.